Description
Cette page est également disponible en Français en cliquant ici
Workshop: Contributing to the Era of Resilient Societies
Training Goals
Enable young people and workers to develop effective adaptation strategies in the face of changes in the labor market and training over the next 5 years.
Description
Crises have been arising in quick succession (global warming, pandemic, social and digital inequality, limited resources) and multiple transitions are both inevitable and necessary (digital, ecological, energy and social). They will radically transform economies and living together, and will have an impact on how we work and learn.
One of the major challenges involves training workers and citizens capable of contributing to these new societies, which will have to adapt and become more resilient. Innovations in how we work are inevitable; some trades will disappear, others will appear, but the vast majority will be transformed. On the one hand, work organization (face-to-face vs. teleworking), management methods and performance evaluation will be modified. On the other hand, education will have to make it possible to develop the skills required to meet these demands—we will have to change teaching methods and reassess learning evaluations. The shift from a business-based strategy to a skills-based strategy will lead to an approach based on roles and types of contributions.
The solution lies in a vision of lifelong learning to develop adaptation skills in young people and to equip them to become active agents of their professional career.
Learning Objectives
Participants will learn to :
Develop strategic and practical thinking on current transitions (digital, energy, ecological, social) and their impact on the world of work and learning
Identify the digital, professional and interdisciplinary skills in demand on the labor market in several sectors as well as in society
Discover adaptation and self-study strategies
Empower workers to improve organizations
Methodology
Scenario : Hybrid format (online and on site) or 100% virtual format (online only)
We use a digital learning environment (Moodle) for workshop content (text, image, video), discussion spaces (forum) and evaluation activities (quiz).
If the entire workshop is remote, we use a videoconferencing service (Zoom), which allows simultaneous presentation and participant interaction during the workshop.
Schedule:
• Pre-workshop – 30 minutes (online) Participants will complete a short training session and a preparatory activity on the platform (asynchronous learning)
• Workshop day
Part 1 – 90 minutes (on site or remotely): Content presentation
Part 2 – 60 minutes (on site or remotely): Interactive activity
Target Audience
Interns between 20-30 years of age, young workers, human resource managers, recruiters.
Content
Tipping points
Transitions
Impact on work and learning
Skills
Adaptation strategy
Practical exercises
Instructor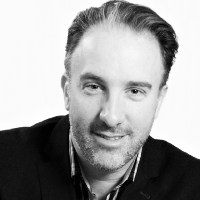 Geoffroi Garon-Épaule, M.A., PhD candidate
Consultant, researcher and instructor in digital solutions for the past 15 years, Geoffroi specializes in business strategy, and cutting-edge educational and technological design of digital badge systems (Openbadges), their digital uses and collaborative technologies. He is passionate about open innovation and co-design strategies (community of practice, Living Lab, Fab Lab) as well as about technopedagogy and lifelong learning (digital literacy).
Practical Information
Venue: Suite 330 at 55 Rue de Louvain Ouest in Montreal, H2N 1A4
Duration: Half day (2 p.m. to 5 p.m.)